MARIALA NATIONAL PARK
This former grazing property was used to breed horses for Cobb & Co. stagecoaches in the early 1900ís!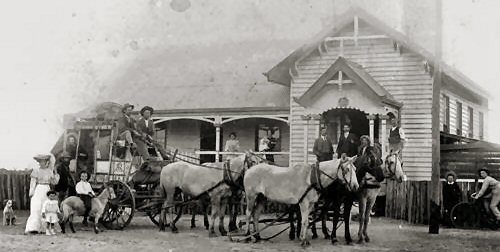 Cobb & Co. outside Adavale Post Office
Visit Mariala National Park, conserving over 27,300 hectares of scarps, ranges and deeply weathered plains. Mulga vegetation dominates the park, supporting rare and threatened plants and animals. The harsh beauty of Mariala favours low-impact nature based activities, photography and bushwalking.
Birdwatching can be especially rewarding with more than 140 different birds recorded in the park, including the vulnerable Major Mitchell Cockatoo and the rare Square-Tailed Kite. A colony of threatened Yellow-Footed Rock Wallabies has been established in the park. A species of significance is a rare Hakea, which has only been recorded in the Adavale-Cheepie area of Queensland.
Mariala National Park is very remote and visitors must be totally self sufficient as there is no ranger on the Park. Ensure you take extra food, water, fuel, first aid kit and spare parts for your vehicle. Take a compass when exploring as there are no formal walking trails. Visit in the cooler months as summer days can be very hot and winter nights very cold. Four wheel drive vehicles are recommended as all roads are unsealed and may become impassable when wet.
For further information contact: Environmental Protection Agency at Charleville Phone: (07) 4654 1418.
Mariala National Park is situated 46 kilometres from Adavale and 106 kilometres from Quilpie.